We are a company with family traditions in the construction industry. Our offer is addressed mainly to the construction, industrial, residential and large-size sectors. We also provide our clients with assistance in the relocation and assembly of machines, devices and production lines, as well as in the loading and unloading of goods. We are constantly expanding the range of services we offer and modernizing our fleet to meet the market requirements and the expectations of our customers.
Our qualified staff of operators has many years of experience, thanks to which it ensures the efficiency and security of services that are provided at the highest level. Our customers can also count on our assistance in the field of consulting and selection of appropriate equipment.
In nearly 20 years of presence on the market, we have gained the opinion of a solid and credible partner for whom customer satisfaction and work safety are the primary goals. The main advantages of our company are: professionalism, experience, safety, punctuality and reliability.


We invite you to familiarize yourself with and take advantage of our offer.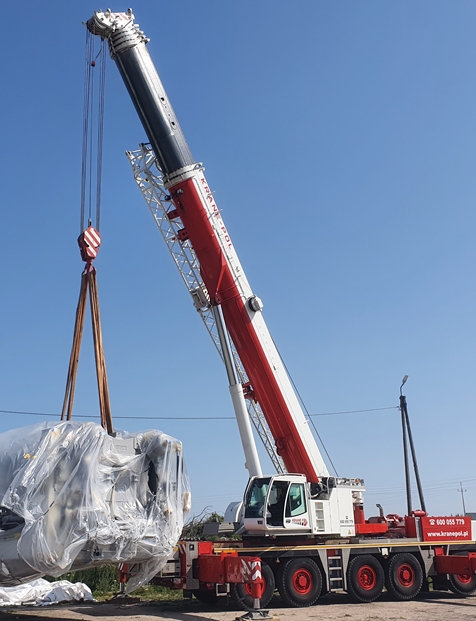 Krane-Pol as a company providing professional and comprehensive crane services, we offer our customers the performance of all crane works using the highest quality equipment. Our fleet includes cranes manufactured by renowned brands such as Liebherr, Terex, Demag and Tadano. The lifting capacity of these equipment is from 40 to 220 tons, and the maximum lifting height is from 44 to 108 meters. Each mobile crane that we have at our disposal regularly undergoes technical inspections and inspections.
Due to the extensive fleet, efficient work organization and having qualified operators, we are able to carry out any order, while maintaining the principles of occupational health and safety. All these features, as well as orientation to the needs of our clients, allow for quick and effective actions and professional implementation. We provide a full range of services in the construction, industrial, residential, large-size sectors, during the relocation and assembly of machines, loading and unloading of goods, installation of photovoltaic and wind farms.
You don't know which crane is best for you the work you are planning? Our qualified team will surely help in choosing the right equipment.
Krane-Pol performs all specialist works in the field of disassembly, assembly, transport and setting up of machines, devices and production lines. Each of these processes is performed using specialized equipment, which includes, among others:
Do you need help with moving your factory to another location, installing a new production line? Contact us and we will provide all the information you need and prepare an offer tailored to your needs and expectations.
Our qualified employees deal not only with the relocation and commissioning of equipment, but also with their loading and unloading. Our fleet includes vehicles for large-size transport, and thus we are able to move the interior of production and industrial halls and warehouses, even over a very long distance. We provide our services in Poland.
TEREX AC40/2L
Liebherr LTM1055-3.2
LIEBHERR LTM 1080/1
DEMAG AC80-2
LIEBHERR LTM 1100-5.1
LIEBHERR LTM 1130-5.1
TADANO FAUN ATF 220G-5
TEREX AC40/2L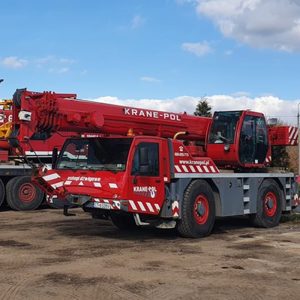 TEREX AC40/2L
max lifting capacity – 40tons
telescopic boom – 37,4m
max. lift height – 44m
max. working radius – 34m
number of axles – 2
Liebherr LTM1055-3.2
LIEBHERR LTM 1080/1
DEMAG AC80-2
LIEBHERR LTM 1100-5.1
LIEBHERR LTM 1130-5.1
TADANO FAUN ATF 220G-5